Are you on a quest to find the ideal badminton court in Singapore, whether to sharpen your playing prowess or just for a fun game with friends?
You're in luck! Singapore is brimming with outstanding indoor and outdoor badminton courts. Whether it's the expansive indoor spaces at Singapore Expo or the more budget-friendly Active SG courts, this article is your go-to resource.
Dive in to explore the finest court options, understand their amenities, and learn how to effortlessly book your next game. Let's jump right into finding your perfect badminton spot!
What's so special about these Badminton Courts
Singapore Badminton Hall @ Expo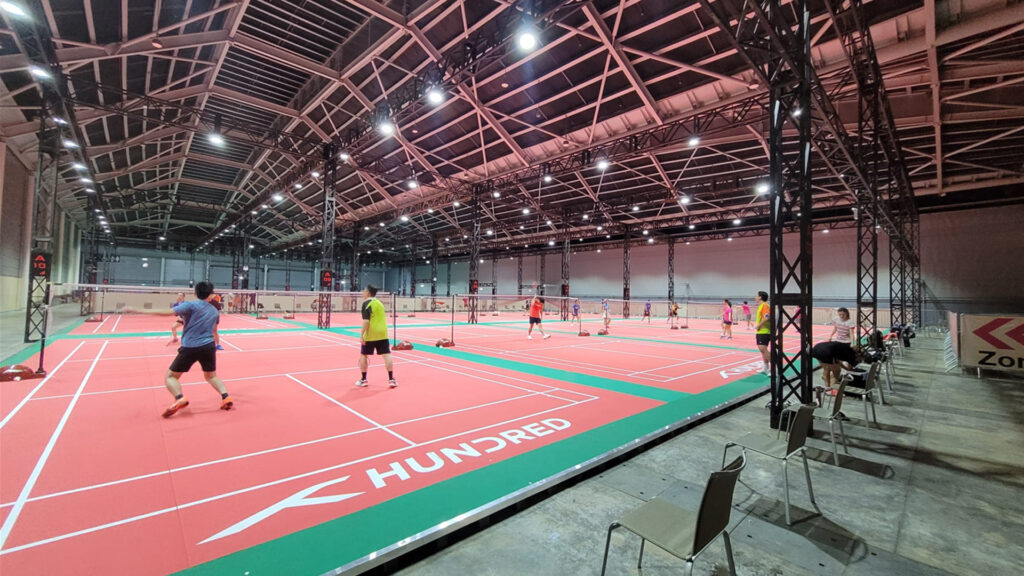 Singapore Badminton Hall @ Expo boasts the title of the largest indoor badminton hall in Singapore, featuring a whopping 20 badminton courts and 2 pickleball courts.
Originally an exhibition hall, it was converted into a recreational space to address Singapore's shortage of badminton courts and meet players' demands.
Located conveniently near public transportation options, Singapore Badminton Hall @ Expo offers affordable court rates starting from $8/hr on weekdays from 9 am to 6 pm and $22/hr from 6 pm to 10 pm.
With easy access to food establishments around the area, you can quickly refuel after an intense game or simply catch up with friends over a meal.
Singapore Badminton Hall @ Geylang
The Singapore Badminton Hall @ Geylang is a top destination for badminton enthusiasts in Singapore. Located near Aljunied MRT, the hall boasts an indoor court with 14 Olympic-sized courts, seating for 400 spectators, and competition-grade mats.
The Gerflor Taraflex professional sports flooring system used at the hall provides excellent shock absorption to minimize the risk of injury while playing.
This makes it a preferred choice among professional players who require high-quality facilities to train and compete.
Review ⭐: 4.1 (461 Google reviews )
Smash Arena @ Joo Koon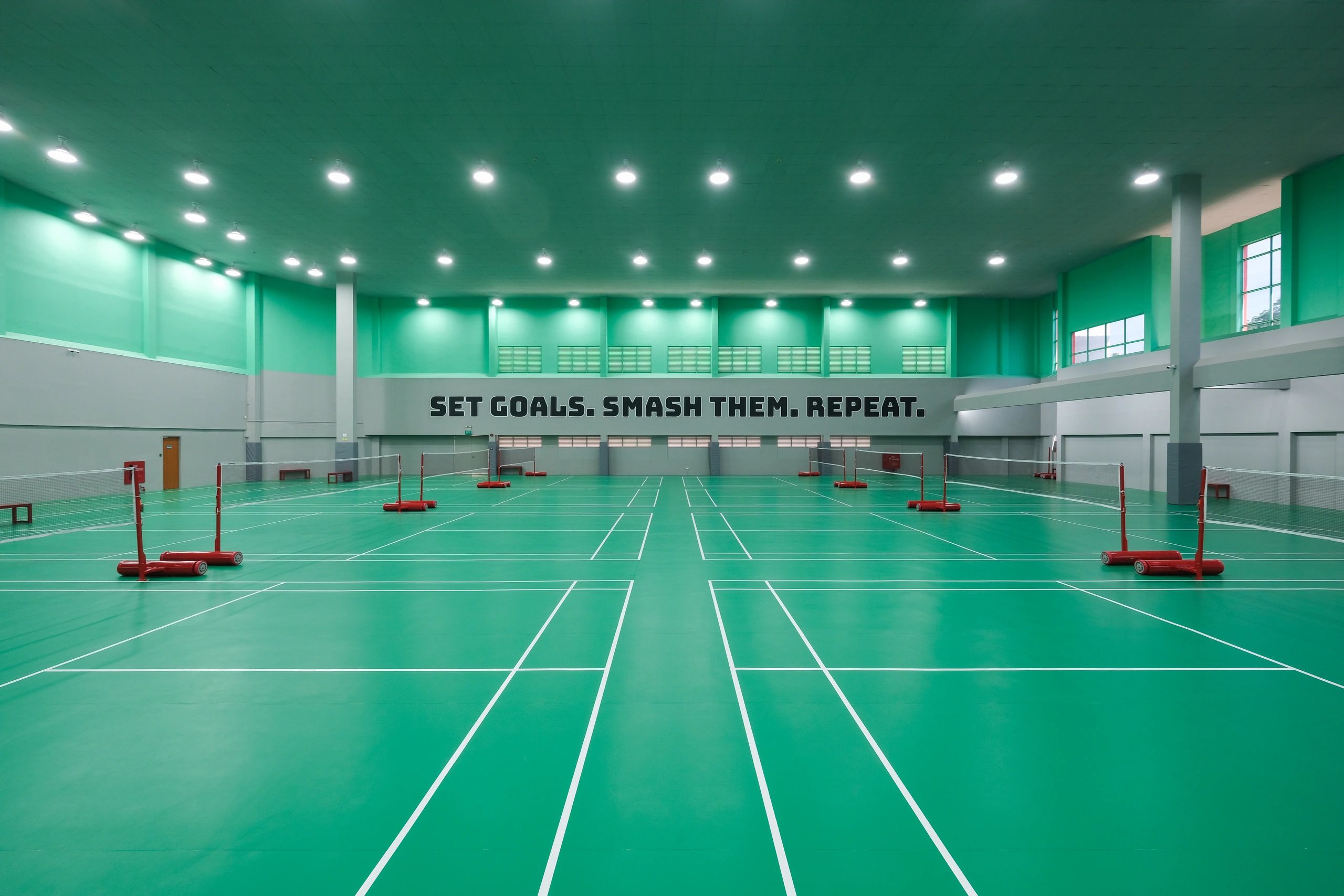 Smash Arena @ Joo Koon is the most popular, top-notch badminton facility that caters to players seeking a professional playing experience in Singapore.

With 9mm thick Gerflor Taraflex® badminton flooring, this indoor arena provides excellent shock absorption and reduces the risk of injury while playing.
Located within easy reach of public transportation, Smash Arena offers affordable rates at $17/court/hr during off-peak hours and $25/court/hr during peak hours.
This exceptional venue attracts both casual players looking for an enjoyable game with friends as well as competitive athletes in search of world-class facilities for training sessions.
Review ⭐: 4.9 (677 Google reviews)
OCBC Arena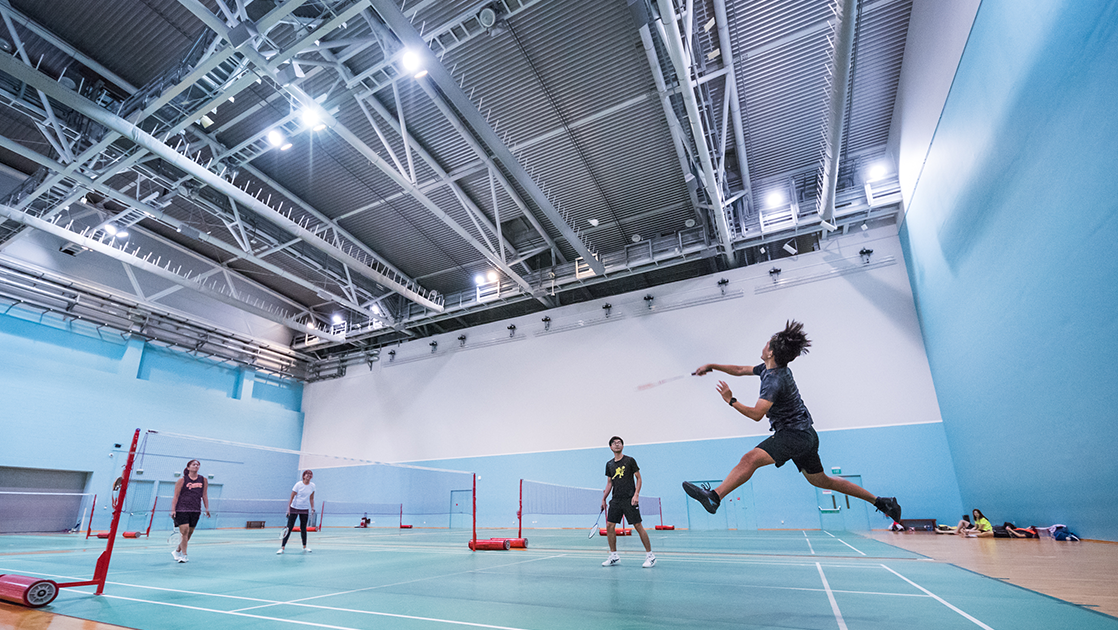 Located at the Singapore Sports Hub, OCBC Arena is considered one of the best places to play badminton in Singapore. It offers air-conditioned badminton halls at almost half the price of other indoor courts, making it a favorite among residents.
The rates are affordable, ranging from $5/hr to $8/hr on weekdays and weekends. With competition-grade mats and synthetic flooring, players can enjoy professional-level facilities without breaking the bank.
ActiveSG Sports Halls
This option is probably for more recreational players who don't mind not having competition grade mats as many sports hall don't have the flooring system!
ActiveSG Sports Halls are some of the most popular venues for badminton players in Singapore as they are the cheapest and widely available. However, there are still some Active Sg places such as Heartbeat@bedok mall which offers the Competition grade mats!
Just note that it can be difficult to
Badminton enthusiasts can book ActiveSG courts up to two weeks in advance through SingPass, email, mobile, or NRIC. Rates start at $3.50/hour for Singapore citizens and permanent residents, with peak hour slots being slightly more expensive.
ActiveSG offers flexible time slots for those who prefer to play outside peak hours.
If you are a pro, you probably want to go for Singapore Badminton Hall or smash arena as they have Gerflor Taraflex® badminton flooring that's the perfect environment for a competitive game.
Optimum Badminton Courts
Do you know Optimum Badminton Academy Also have courts? Their courts are competition grade and also super well maintain.
| Venue | Non-Peak Pricing | Peak Pricing |
| --- | --- | --- |
| OBA Arena @ Punggol | $12/hr (Mon-Fri 9am-6pm) | $22/hr (Mon-Fri 6pm-10pm, Weekends & PH 8am-10pm) |
| Community Hall @ Sprout Hub | $14/hr (Mon-Fri 9am-6pm) | $24/hr (Mon-Fri 6pm-10pm, Weekends & PH 8am-10pm) |
| OBA Arena @ Pasir Ris | $14/hr (Mon-Fri 9am-6pm) | $24/hr (Mon-Fri 6pm-10pm, Weekends & PH 8am-10pm) |
If you live near anyone of these locations and are lazy to travel, this is a very solid choice. You can also easily make booking for a badminton court at their website. Of course, Peak hours will likely be booked so be sure to act fast.
Singapore offers a wide range of indoor and outdoor badminton courts for enthusiasts of all levels. From the biggest indoor badminton hall at Expo to active sg courts near your house, there is something for everyone.
Click here If your looking for badminton coaches or academies in Singapore