Step into the world of archery and experience an exhilarating activity that will test your accuracy, precision, and focus. Archery is more than just a sport; it's also a unique form of entertainment perfect for families, kids, and adventurers alike!

Let's explore the thrill of archery in Singapore and reveal where you can learn and practice this fascinating sport.
Discover The Thrill Of Archery Singapore
Archery in Singapore is an exciting sport that offers numerous health benefits, from improving focus and coordination to promoting upper body strength and posture.
Why Archery Is An Exciting Sport
Archery is an exciting sport that captivates both novices and seasoned enthusiasts alike, thanks to its unique blend of skill, precision, and focus.
It engages both the mind and body in a way that challenges individuals to push their physical boundaries while honing their mental agility.
One of the most compelling aspects of this ancient sport is its rich history that dates back thousands of years.
From skilled hunters mastering the bow for survival to legendary characters like Robin Hood embodying iconic archers in literature, there's no shortage of fascinating stories surrounding it—a testament to its enduring allure.
Moreover, with movies like "The Hunger Games" catapulting archery into mainstream popularity amongst younger generations, it has become a thrilling alternative activity beyond traditional sports available in Singapore today.
Top Archery Clubs And Ranges In Singapore
Here's a summary of the top archery clubs and ranges in Singapore, including Ace Archery, Telok Blangah Archery Club, Pasir Ris Elias Archery Club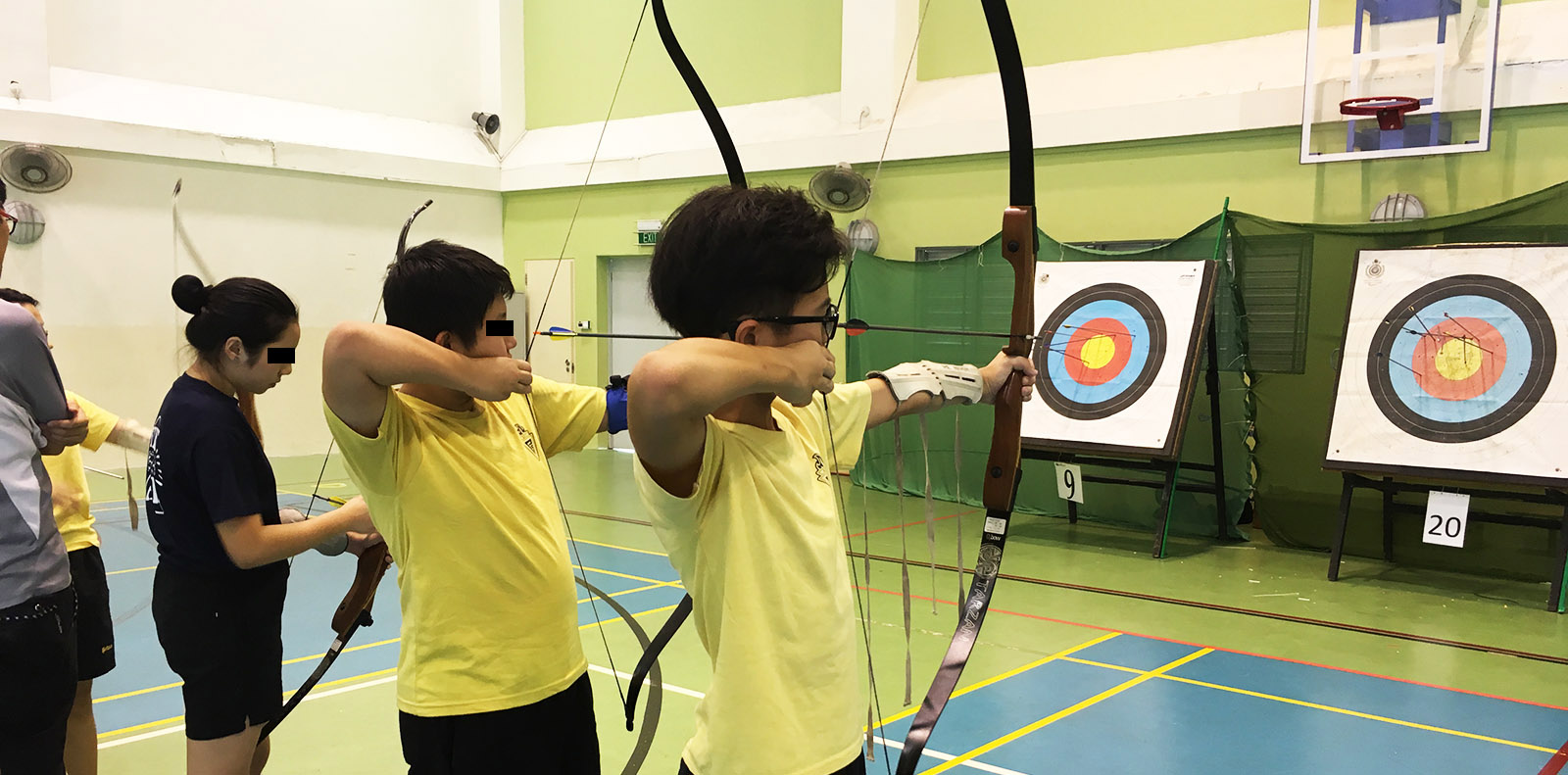 Located in Punggol, Ace Archery is the perfect choice for an exhilarating experience with a bow and arrow. This premier club offers both indoor and outdoor archery experiences for all ages, making it a family-friendly destination for sporting fun.
Ace Archery has an impressive track record of conducting classes for over 100 schools, institutions, and community centers throughout Singapore.
In addition to group sessions, private coaching is available at their associated club – The Archery Academy – catering to newbies taking their first shot or pros looking to refine their skills further.
Review ⭐: 4.4 (25 Google reviews)
Telok Blangah Archery Club is an excellent choice for archers of all levels, from beginners to advanced. Located in the scenic Telok Blangah area, this club offers a range of programs and facilities that cater to the needs of all archery enthusiasts.
They also provide equipment rental services, coaching sessions with certified instructors, and even organize competitions and events throughout the year.
Review ⭐: 4.8 (16 Google reviews)
Flaming Arrows Archery Club
Flaming Arrows Archery Club is a community-based club that aims to make archery accessible and affordable to everyone. The club has its own archery range in Marsiling, where they offer beginner courses for those who are new to the sport.
They have also produced multiple national and international medalists, making them a renowned name in the archery scene of Singapore. The coaches at Flaming Arrows Archery Club are experienced and passionate about their craft, providing top-notch instruction to both beginners and experienced archers alike.
Review ⭐: 4.4 (25 Google reviews)
Salt & Light Archery
Salt & Light Archery is one of the top archery providers in Singapore, offering a range of services for beginners and experienced archers alike.

Their facilities are equipped with Olympic-standard range distances and students have access to certified archers who can provide equipment rental and coaching support.
The company prices its monthly and annual passes competitively and also has special rates for students. Salt & Light Archery offers beginner's courses which include a 1-Hour Fun Shoot, 10 Arrow Challenge, Balloon Challenge, and Mini Target among other activities that aim to build upon hand-eye coordination skills while also having fun.
Review ⭐: 5.0 (920 Google Review)
The Archery Academy
The Archery Academy is another top archery provider in Singapore, offering classes for both beginners and advanced archers.

The academy is associated with some of the best archery clubs in Singapore, including Ace Archery, Salt & Light Archery, Flaming Arrows Archery Club, and Telok Blangah Archery Club.
The academy provides coaching for individuals as well as corporate events and competitions. Children aged 10 and below can try out 12 arrows in the Trial Shoot, while those aged 11 and above can participate in the Fun Shoot.
The academy has a pro shop where participants can purchase equipment and accessories to enhance their experience further.
Review ⭐: 4.6 (19 Google reviews)
Archery Club Near Me
If your looking for an archery club near you, check out the Singapore archery association where they show all locations of archery clubs in Singapore!
Archery Experiences For The Whole Family
Archery is an excellent family activity that promotes teamwork, coordination, and focus.
Archery Classes For Kids
Ace Archery, DM Archery, Salt & Light Archery, and The Archery Academy in Singapore provide archery classes for kids of different ages.
These providers offer beginner courses for children as young as 6 years old, with classes tailored to suit the child's physical abilities and skill level.
Classes are held both indoors and outdoors throughout the year, accommodating different schedules and weather conditions.
Instructors ensure that safety protocols are followed at all times, teaching kids how to properly handle equipment and arrows.
Kids can learn the fundamentals of archery such as proper stance, grip, and release technique through introductory lessons or basic archery courses.
Advanced courses are also available for kids who want to take their skills to the next level and compete in archery competitions.
Some providers like Salt & Light Archery cater to children with special needs or physical limitations by offering adaptive equipment and individualized coaching.
Conclusion
Discovering the thrill of archery in Singapore is an exciting activity for families and individuals alike. Not only does it challenge your precision and accuracy, but it also offers health benefits such as improved coordination and focus.
With top-notch archery clubs and ranges like Ace Archery, Salt & Light Archery, The Archery Academy, and Flaming Arrows Archery Club, you can learn from highly qualified instructors at accessible locations with quality equipment.
For a unique alternative date idea or bonding activity with loved ones, try the combat archery tag by Cohesion Singapore or Pasir Ris Elias' fun shoots.