As a unique blend of tennis and squash, Padel offers an accessible and engaging gameplay experience for players across all ages and skill levels.
With its fast-growing popularity in over 80 countries and endorsement from the International Tennis Federation, there's no better time to jump on board this thrilling sport- Even the football legend, Christiano Ronaldo is promoting it!
So far, I only know that Sing Padel, MBSSPORT, Ricochet Padel & Padel Tribe allows for the anyone to book and play the courts so do take note!
Learn about Padel Tennis in Singapore if you are interested to take up this sport!
Padel Courts in Singapore (Public available)
You can find affordable the courts in Singapore at various clubs and venues, including beginner-friendly options with coaching and equipment rental.
Located at Jurong Gateway, This is by far the most economical option to play Padel in Singapore.
From singles/ Double Court, they allows 90 mins of playtime per booking which is more than ample time to enjoy the game. They also have various classes to teach Padel for beginners ranging from $30 each.

Do note that Padel is not the same as pickle ball! The court size and play style may seem similar but it is way more dynamic.
These are my few takeaways:
1) One very interesting feature they have is an online app for booking– the Padel Mates App which allows you to book the space and also match with players if you're looking to compete! In fact, this app allow you to book at different locations in Singapore!
2) Everything there is Self-service! You book the court using the app, borrow a racket from the storage system and return it. You can have a swing at your friends whenever the booking allows for.
3) They have dedicated coaches that love the sport and give very useful tips to pick up Padel so don't worry if you're new!
4) After experiencing their introduction session, I can say that their court is super high quality and drys up very quickly after the rain too!
Overall I rate the experience a 9/10! It is an amazing sport to pick up.
If you're looking for a classy view of the city while playing Padel, Bliss Padel is for you! Located at the marina sports center, it is very convenient as it's a central location for many people.
Even though it's slightly pricier than at around $30 per pax with equipment rentals of $10, it is understandable as they are located in the city area! It's definitely a good place to play and unwind after work. What's interesting is that they have a WhatsApp group for beginners to advance level for the Padel community in Singapore which can be useful for gaining tips or having a friendly match with other players!
Update: Their website is currently down so you will have to book through MBSSPORTS..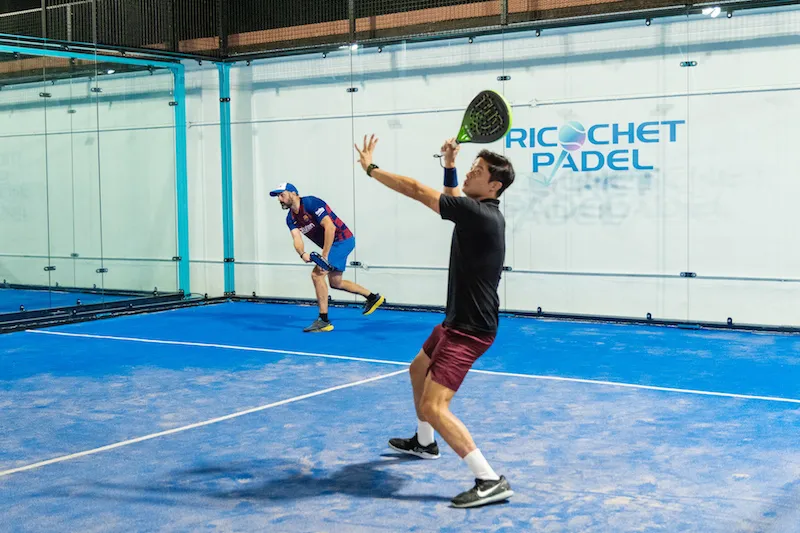 Nestled in Laguna Green & the 4th Floor of the prestigious Amara Sanctuary Resort Sentosa, it's a sanctuary where the community in Singapore converges to celebrate the sport. If your located near the area, it's a perfect place to play some Padel there!
The pricing starts of with Peak hours at $84 p/h (7am to 12pm + 4pm to 10pm) and Off-Peak hours at $72 p/h (12pm to 4pm). For the rental, it is similar to Bliss Padel at $10 per rental, get a racquet and step onto the court.
Located at 220 Turf Club Road, Padel Tribe has the cheapest padel courts in Singapore!
All their courts are double courts and they allow you to book from $50/ 60 minutes to $100/120 minutes.
If your near the Cage sports park, instead of playing football there, why not try out this growing sport in singapore! Click here to book your time slots .
Other Padel Spots in Singapore (Private)
These are spots only for members of certain clubs. If you have friends there the why not try out their private courts!
If your a british club member or a swiss club member, then this court is perfect for you. If not please skip this section! To make a booking for swiss club members, simply use their online portal!
For British Club members, you must be Padel section members. To enter the Swiss Club, British Club members must provide their visitor ticket as well as their BC membership card.
A guest pass is $12 and can be purchased from the Padel Section convenor.
The courts operate from Mondays, Tuesdays, Thursdays, and Fridays (except holidays)
Time: 12 p.m. to 4 p.m., 8 p.m. to 10 p.m.
This is another private Padel Club in Singapore with court booking of $20/h and $5 Rental and members can join a thier WhatsApp group to gain access to Padel lessons and activities as they become available.
Up & Coming Padel Spots in Singapore
Do check out this site for more information of the up and coming padel arenas in Singapore as it continues to grow in popularity!
SkyPark Arena
Sky park arena which is located at 102 Ulu Pandan Rd is also opening some new courts. So if your a padel fanatic living in the west, this would be another good option that you can consider if Singpadel gets too crowded!
For all of you reading this, do help to list any new Padel Clubs here at sportifate.
To summarize, Padel is a fantastic sport that combines the best of tennis and squash. It's easy to learn, fun to play, and suitable for people of all ages and skill levels.
The court size is smaller than a traditional tennis court which makes it easier to cover ground quickly, but don't let that fool you – it's still an intense workout.
Click here If your interested in other racket sports or if you are interested to learn more about padel tennis.