Looking for a sport that's both thrilling and fast-paced? Floorball might just be what you're searching for, with its high-energy gameplay and irresistible appeal.
I'm excited to take you on a journey into the world of Floorball. We'll explore everything you need to know about Floorball such as where you can play and join a thriving community within Singapore.
And the best part? This guide keeps getting better, growing with every new tip and feedback from the Floorball community!
What Is Floorball?
Floorball is a fast-paced, indoor sport that originated in Europe and involves two teams passing a lightweight ball to score goals using specialized sticks.
Check out this highlight reel about floorball!
Where To Play Floorball In Singapore
Floorball enthusiasts in Singapore have various options to choose from when looking for a place to play this exciting sport. Some of the popular choices include: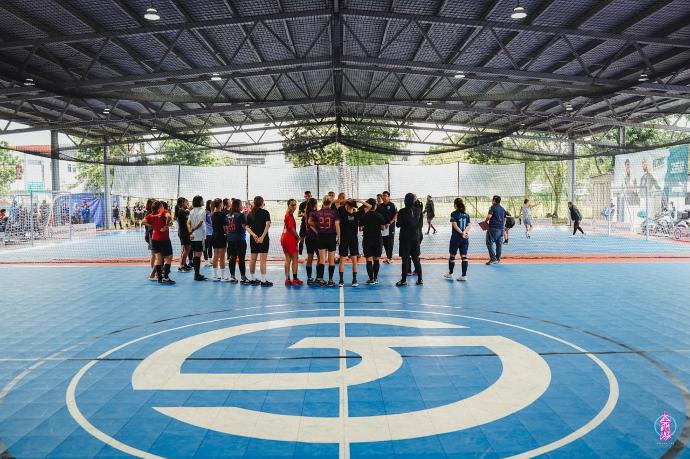 Homeground is a purpose-built arena catering to a variety of sports including futsal, floorball, dodgeball, handball, inline hockey, and roller sports. Its versatility makes it an ideal venue for diverse sporting activities.
The courts at Homeground are designed with superior traction and consistent ball speed for high-level performance and safety. This makes them suitable for both amateur and professional level play.
Safety is a key feature here, with courts installed with cushioned support points that provide both vertical and lateral shock absorption.
Pricing at Homeground Sports
Peak Hours Pricing: During peak hours (Mon to Fri 7pm – 1am, all weekends), the rate is $95 per hour.
Off-Peak Hours Pricing: For off-peak hours (Mon to Fri 8am – 7pm), the cost is $60 per hour.
Student Special Rates: Students enjoy special rates of $25 per hour during off-peak hours, making it an affordable option for young sports enthusiasts
Situated at 26 Jalan Benaan Kapal, near Stadium MRT CC6, it's easily accessible​​.
The indoor courts are well-ventilated and brightly lit, with premium flooring suitable for training and play​​. The outdoor court provides a unique street-type floorball experience under floodlights​​.
The venue is equipped with safety nets, water coolers, restrooms with shower facilities, and vending machines for drinks, snacks, and floorball accessories, ensuring a comfortable and convenient environment for players
The only downside is that the place is quite tiny!
The pricing for RED Quarters, is as follows:
Booking an indoor court at RED Quarters costs SGD 50.00 per hour. These courts are notable for their premium flooring, bright lighting, and good ventilation, making them ideal for both training and playing​​.
For those who prefer an outdoor setting, RED Quarters offers an outdoor court booking at SGD 30.00 per hour.
Local community sports clubs:
Many clubs throughout the country offer floorball programs, such as Tampines West CSC and ActiveSG Floorball Club.
ActiveSG boasts several venues across Singapore, including Compassvale Secondary School Hall, Princess Elizabeth Primary School Hall, and White Sands Primary School Hall. This widespread presence makes it convenient for residents in different parts of the city.
Overall, finding a suitable location for playing floorball in Singapore is not challenging thanks to the numerous resources and dedicated organizations promoting the sport within the country.
Check this page out If your only looking for floorball clubs in Singapore.
The Singapore Floorball Association
The Singapore Floorball Association supports national teams in international competitions, such as Asia Pacific Floorball, while also promoting and developing the sport through various initiatives.
Supporting National Teams In International Competitions
The Singapore Floorball Association (SFA) plays a significant role in supporting its national teams as they compete in international competitions such as the World Floorball Championships and Asia Pacific Floorball.
Singapore's SFA has played a key role in supporting aspiring athletes by launching various initiatives aimed at promoting development within communities across the country—from grassroots programs that encourage youth participation up through elite-level training camps designed specifically for top-tier talent.
Competing In The World Floorball Championships And Asia Pacific Floorball
The Singapore Floorball Association (SFA) takes part in various international competitions, including the World Floorball Championships and Asia Pacific Floorball. Here are some highlights:
Initiatives And Programs To Promote And Develop Floorball In Singapore
The Singapore Floorball Association, the governing body of floorball development in the country, has launched numerous initiatives and programs to promote and develop the sport. These are:
Development Programs for Schools: The association has collaborated with schools to introduce floorball as part of their physical education programs. They have developed a learn-to-play program that includes lesson plans and teaching resources.
National Youth Championships: The annual tournament aims to identify talent and improve the level of competition in the country.
Coaching Courses: The association offers coaching courses for individuals interested in pursuing a career in coaching or improving their knowledge of the game.
ActiveSG Floorball Club: The club was established by Sport Singapore to increase community participation in sports, including floorball. They organize training sessions and competitions for members of all ages and abilities.
National Team Selection Trials: The association conducts national team selection trials annually to identify players who will represent Singapore in international tournaments.
Corporate Tournament: To promote team building and bonding among companies, a corporate tournament is organized annually, providing opportunities for companies to participate in friendly competitions.
Through these initiatives and programs, the Singapore Floorball Association encourages more people, regardless of their age or ability, to get involved in floorball; they aim to make it accessible while upholding quality standards of sportsmanship among all player communities.
The Best Floorball Academies In Singapore
The Big Blue Floorball School in Singapore offers a range of programs and activities for players of all ages and abilities, while Homeground Sports SG is at the forefront of promoting and developing floorball in Singapore.
The Big Blue Floorball School and Homeground Sports SG are two establishments in Singapore that offer top-notch programs for enhancing floorball skills and knowledge.
For those new to the sport, beginner classes are available at both locations, while more experienced players can opt for advanced training sessions designed to improve their gameplay even further.
Whether you're looking to compete professionally or just want to have fun playing with friends, these programs cater to players of all ages and abilities.
Programs And Activities For Schools, Communities, And Corporations
The Big Blue Floorball School and Homeground Sports SG offer a range of programs and activities to schools, communities, and corporations.
Attending Floorball Events & Tournaments in Singapore
Attending events and tournaments is an excellent way to get involved in the thriving world of floorball in Singapore. Here are some options for attending:
SG Floorball Open: This international tournament is held annually in Singapore and welcomes players registered with their IFF-affiliated national floorball association to participate.
Singapore Floorball League: The league consists of Division 1 and Division 2, with games held on weekends at various sports halls across the country.
Women's World Championships: The national women's team of Singapore has participated in this tournament held in different countries, showcasing their skills and representing the country.
Salibandy Competition: Held at universities, undergraduates can form teams and compete against each other in a 3v3 competition called "Salibandy."
Other Competitions: Various schools, clubs, and organizations also hold competitions throughout the year that individuals or teams can register to participate.
Attending these events can be a thrilling experience for players and fans alike, where you can witness fast-paced gameplay, exceptional skills, teamwork, and sportsmanship.
It is an excellent opportunity to learn more about the sport and meet fellow enthusiasts from around the world.
Finding Equipment And Training Resources
If you're interested in getting involved in the thrilling world of floorball in Singapore, finding equipment and training resources is an essential first step. Here are some tips on where to start:
Online retailers – If you can't find what you need locally, consider shopping online. There are plenty of online retailers that carry floorball equipment, including popular brands like Salming and Zone. Or if you like something cheap, Decathalon!
The Singapore Floorball Association – The SFA can be a valuable resource for those looking to get started in the sport. They provide information on where to buy equipment, and they also offer training resources such as clinics and workshops.
Homeground Sports SG – Homeground Sports SG offers a variety of programs and activities for schools, communities, and corporations looking to get involved in Floorball. They also provide equipment rental services.
By utilizing these resources, you'll be well on your way to enjoying all that floorball has to offer!
The future of floorball in Singapore looks promising. With its growing popularity and dedicated initiatives by organizations such as the Singapore Floorball Association and The Big Blue Floorball School, more people are discovering the thrilling world of floorball.

If you're just looking to watch floorball, you can head down to NUS University sports center to view the floorball team training on Saturdays!
Check out our other sports guide here!