Did you come here because of Haikyuu?? Jokes aside, whether you're a seasoned player or new to the sport, this ultimate guide has got you covered. Learn about recreational volleyball clubs and professional academies for honing your skills, and immerse yourself in exciting competitions happening all around Singapore.
If you're just looking for a fun place or a community to play volleyball with, just skip to the point!
Clubs And Professional Academies To Join For Volleyball Enthusiasts in Singapore
Joining a volleyball club or professional academy can take your skills to the next level and provide a great way to meet new people who share your passion for the sport.
Singapore Volleyball Association
The Volleyball Association of Singapore (VAS) is the governing body for volleyball in Singapore. Its primary objective is to promote and develop the sport throughout the country while maintaining high standards of professionalism and sportsmanship.
VAS organizes various competitions, including the National Volleyball League and International Volleyball Championship, as well as providing resources for amateur sports clubs and youth sports programs.
Active SG Volleyball Academy
With the aim to improve the sports culture in Singapore, active sg is developing young talents from their volleyball academy program!
Their programs are mainly tailored for kids and the youth and they will teach them the fundamentals required for the game!
One can easily find information about tryouts and registration online on their website or by contacting them directly via email or phone.
JRT Volleyball Academy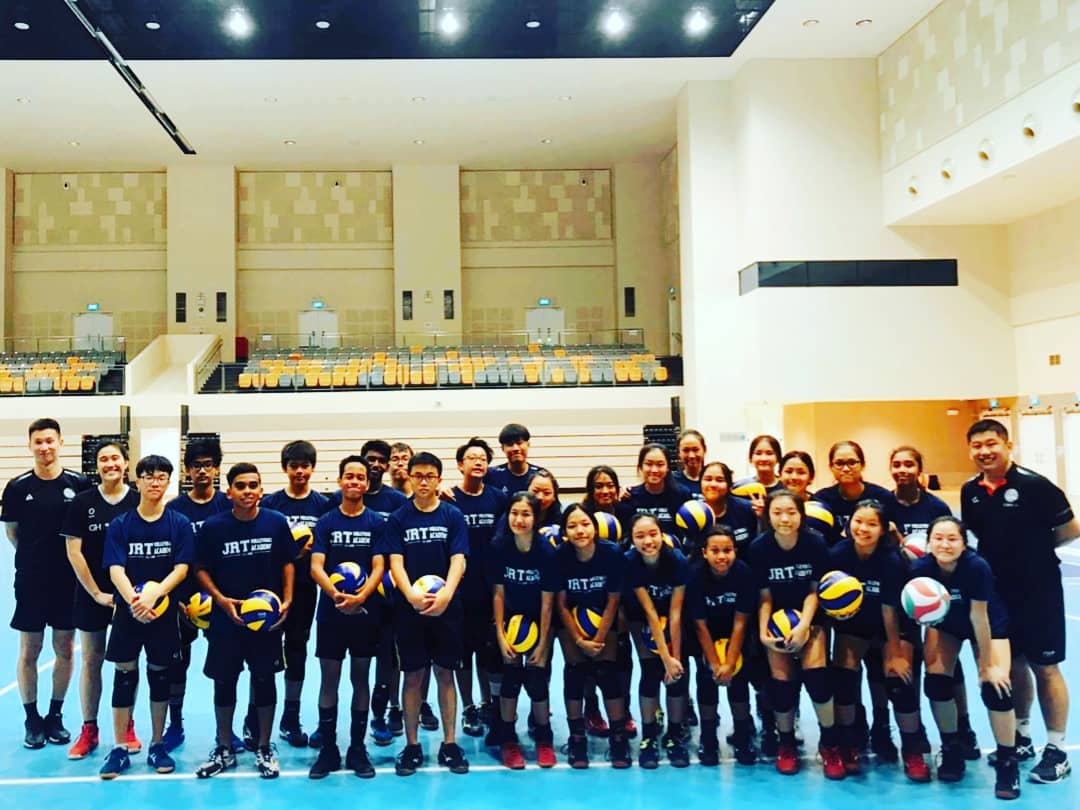 JRT Volleyball Academy is one of the most prominent clubs and professional academies in Singapore for volleyball enthusiasts to join.
Founded by Mr. Jerry Teo in 2006, JRT Volleyball Academy has a passion for coaching children and teenagers to become future elite athletes.
With partnerships with various educational organizations, including local primary, secondary, and junior colleges, as well as international schools in Singapore, JRT Volleyball Academy provides comprehensive indoor training at Upper Thomson Community Hub and beach volleyball programs at East Coast Park.
Their coaching framework ensures that every player receives the necessary attention required to develop their skills while enjoying the sport they love.
Revollve Volleyball Academy
Revollve Volleyball Academy is one of the sought-after clubs in Singapore for volleyball enthusiasts who want to take their skills to the next level.
It offers high-quality volleyball classes for both indoor and beach settings, complemented by professional trainers who focus on developing character through sportsmanship, communication, teamwork, and problem-solving skills.
The academy's signature program called SPIKE-TACULAR gives participants a chance to master bumping, setting, and spiking in an exciting beach volleyball clinic at the Singapore Sports Hub
Joining any one of these academies will provide opportunities to participate in various volleyball tournaments, leagues, clinics, and camps.
These academies also offer coaching services from experienced coaches, helping players improve their techniques and ball skills.

Joining Volleyball Communities for Support & Networking
Being part of a volleyball community in Singapore is an excellent way to enjoy the sport, develop your skills, and connect with fellow enthusiasts.

One way to do so for FREE in Singapore is by checking out onePA. This is a government site showcasing various interest groups for certain sports all over Singapore.
You can register up to 5 pax per registration so invite your friends along to learn this sport together! Otherwise, just check out the meet-up community for some friendly!

Engaging in sports communities creates opportunities for networking and building relationships with people who share similar interests as you.
Additionally, being involved in these groups allows you to participate in various events and competitions that can help improve your game.
If your looking for the list of volleyball clubs in Singapore, check this out!
Competitions And Events To Watch In Singapore For Volleyball
Singapore hosts various volleyball competitions and events throughout the year! If you want to find out more about the events in detail such as where is it held or how much to pay per for team participation, check out Volleyball Association Singapore events!
Singapore Volleyball League
The National Volleyball League is a highly-anticipated event in Singapore's volleyball scene. It features top teams from clubs and schools competing for the championship title.
The tournament provides an excellent opportunity to watch high-level games, learn about new techniques and strategies, and appreciate the sport's passion among players and fans alike.
Spectators can expect intense rallies, powerful spikes, clever serves, and impressive blocks throughout the matches.
Moreover, Sport Singapore recognizes volleyball as an essential sport that helps advance national priorities of developing people and bonding communities through active participation in sports events like this one.
Pesta Sukan Volleyball Festival
One notable event under this category is the Pesta Sukan Sports Festival which takes place annually in Singapore. During this festival, enthusiastic volleyball fans can participate in tournaments or watch experienced teams battle it out on the court.
This competition usually ranges from beginner to expert level but generally has more recreational players
The National Inter-School Volleyball Championships is a highly anticipated event in Singapore's volleyball scene. It brings together young athletes from different schools, competing for the top spot in the championship.
For those interested in watching competitive school-level volleyball matches, the National Inter-School Volleyball Championships is definitely an event to watch out for.
You can check out SG Sports TV which broadcasts most of the inter-school games on youtube!
ASEAN University Games Volleyball
The ASEAN University Games is a biennial sports event that brings together student-athletes from universities across the Southeast Asian region to compete in various team sports.
With national pride on the line, expect nothing but an intense and exciting display of athleticism from each competing country.
Whether you're a player or spectator, these events offer plenty of opportunities to enjoy volleyball in Singapore.
Beach Volleyball
Don't forget about beach volleyball which takes place along sandy courts such as the one at Stadium! Having tried some beach volleyball before, it is actually very difficult to play volleyball on the sand as it is harder to jump on so I am amazed about how these athletes do so!
Keep yourself up to date with the national beach series or other beach volleyball competitions on the volleyball association page!
How To Enjoy Volleyball In Singapore
Looking to enjoy volleyball in Singapore? Check out our tips for playing, resources for finding opportunities, and joining communities in this vibrant scene!
Tips For Playing Volleyball In Singapore
Volleyball is one of the most exciting team sports that can be enjoyed in Singapore. Here are some tips to help you get the most out of your volleyball experience:
Focus on Footwork: Good footwork is essential for a successful game. Practice moving quickly and efficiently, both forwards and backward.
Master Serving: Serving is critical in volleyball, so take time to practice this skill until you get it right. Experiment with different types of serves such as topspin, float, and jump serve.
Develop Your Strength: Volleyball requires a high level of fitness and strength endurance so hit the gym or engage in exercises that will build leg, core, and arm strength.
Know Your Position: It's important to know your position on the court and master all the necessary skills required of your position- whether you are an attacker, blocker, or setter.
Learn Strategies and Tactics: Successful teams utilize strategies and tactics – improve your gameplay by understanding different plays and movements that make up the tactical play.
Protect Yourself Against Injuries: Volleyball can be physically demanding which increases the risk of injury, therefore it's important to wear appropriate protective gear like knee pads when playing.
Finger tape is also useful especially if you spike a lot!
By following these tips, you'll be able to enjoy playing volleyball in Singapore while improving your skills at the same time!
Singapore has a vibrant volleyball scene that offers plenty of opportunities for players and enthusiasts. From indoor to outdoor courts and professional clubs to recreational leagues, there's something for everyone.
Joining a club or academy can help you improve your skills and meet like-minded individuals. Click here If your looking to try out other ball sports in Singapore.