Looking to hit the waves in Singapore? Wakeboarding is a thrilling water sport you'll want to try. Singapore, with its temperate climate, offers excellent conditions for this activity all year round.
We covered an array of kid-friendly wakeboarding clubs and how you can kick-start your exciting journey into wakeboarding. Let's dive in!
Key Takeaways
Wakeboarding is a thrilling water sport that can be enjoyed year-round in Singapore.
Popular wakeboarding locations in Singapore include Absolute Beach Boys, Edge Wakeboarding, Maxout Hydrosports, Ryders Singapore, and Singapore Wake Park.
Several kid – friendly wakeboarding centers in Singapore offer lessons and equipment for children as young as 4 years old to enjoy this exciting activity.
Whether you're a beginner or an experienced rider, there are plenty of opportunities to experience the adrenaline-pumping fun of wakeboarding in Singapore.
Understanding Wakeboarding
Wakeboarding is a fun sport. You can do it all year in Singapore. It is like surfing but you hold onto a rope. A boat pulls the rope and you ride on a board on the water.
You need good skills to wakeboard. Balance matters most of all. You also need strength in your arms to hold the rope tight. Don't worry if you're new! Many places are beginner friendly!
Kids can also try wakeboarding! Some places even let kids as young as 4 years old start, if they are not scared of water.
Popular Wakeboarding Locations in Singapore
Here are some popular wakeboarding locations in Singapore that you should check out: Absolute Beach Boys, Edge Wakeboarding, Maxout Hydrosports, Ryders Singapore, Singapore Wake Park, SurfnWake, Suter WakePro, Wake Pirates, WakePit, and Wake Time.
Absolute Beach Boys
Absolute Beach Boys is a great place for wakeboarding and wakesurfing. They teach beginners in easy steps. This helps new learners gain the skills they need fast. If you are under 8 years old, you can't start learning here yet.
This sports center focuses on safety first.
Kids as young as 8 years old can join in the wakeboarding action at Absolute Beach Boys. With their experienced coaches and premium equipment, you'll be sure to have a safe and enjoyable experience.
Their locations in Punggol and Admiralty make it convenient for those living in the northern part of Singapore to access their services. So head over to Absolute Beach Boys and get ready for an exciting ride!
Edge Wakeboarding is where fun meets the water. You can wakeboard all year round here. It's one of Singapore's hot spots for this sport. Kids as young as four who love the water can join in too!
Coaches at Edge focus on how wakeboarding feels, not just on rules or skills.
This lets riders of all levels grow their skill and have a safe thrill ride at the same time.
Maxout Hydrosports is a top spot for water sports in Singapore. It started giving lessons in wakeboarding, wakeskating, and wakesurfing in 1997. The lessons are given by skilled trainers who know how to make these sports easy and fun.
They also have all the gear you need to get into the water safely. If your kids want to try wakeboarding at Maxout Hydrosports, you should call first to check if they are old enough.
Located in Tuas, is a popular kid-friendly wakeboarding location in Singapore.
With over 20 years of experience, they are dedicated to providing professional instruction and guidance for kids who want to master wakeboarding techniques.
Ryders Singapore is one of the top wakeboarding and wakesurfing centers in Singapore. They offer coaching, equipment, life vests, and even drinks to ensure a comfortable experience for everyone.
With experienced coaches like Brayden, Desmond, Kelvin, Marcus, and Tzewei, you can be confident that you'll receive quality instruction.
The rates for their services vary depending on the boat size but range from $150 to $190 per hour.
If Mandarin-speaking coaches are needed, Ryders Singapore has them available too.
Plus, they even offer drinks to keep you refreshed during your session. The minimum age requirement for kids at Ryders Singapore is 6 years old. So whether you're new to wakeboarding or just want to enjoy a thrilling day out on the water in Punggol, Ryders Singapore is a great choice!
Singapore Wake Park is a popular destination for wakeboarding enthusiasts of all skill levels. The park features three cable systems, each designed to cater to different abilities, making it suitable for beginners and experienced riders alike.
One of the great things about Singapore Wake Park is that they welcome riders as young as six years old, so it's a fantastic place for families looking to try out this thrilling water sport together.
In addition to wakeboarding, visitors can also enjoy other activities like running, skating, and cycling within the park.
Another advantage of Singapore Wake Park is that they provide full floodlighting, allowing riders to continue their sessions even after dark.
SurfnWake
SurfnWake is a fantastic option for wakeboarding in Singapore, offering thrilling experiences with their world-class wakesurf boat. Whether you're a beginner or an experienced rider, SurfnWake caters to all skill levels.
While the minimum age for kids to participate needs to be checked by calling ahead, SurfnWake ensures that everyone has a safe and enjoyable time on the water.
As part of popular wakeboarding locations in Singapore, SurfnWake is known for providing high-quality wakeboarding experiences that are sure to leave you wanting more.
Wake Pirates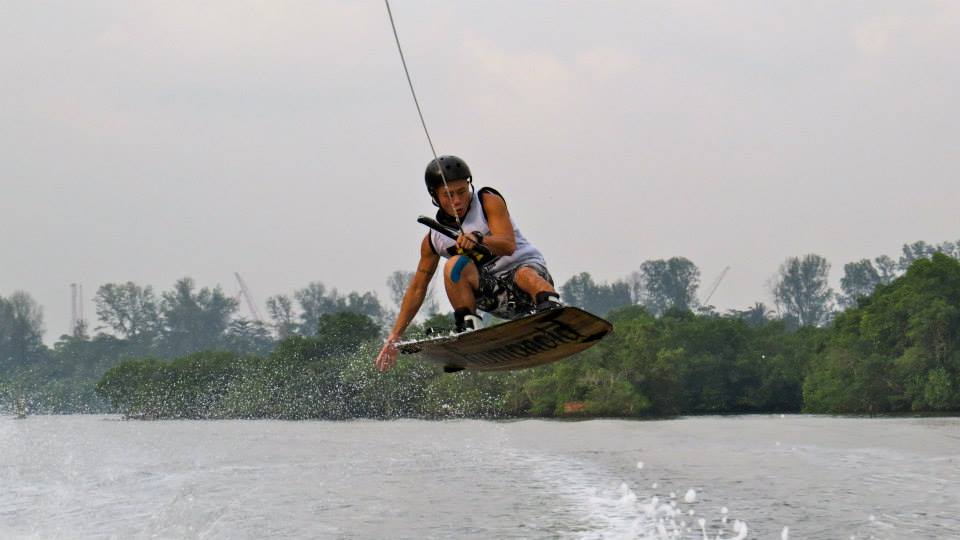 Wake Pirates is a fantastic wakeboarding center in Singapore that caters to beginners and experienced riders alike. They offer customized sessions tailored to individual skill levels, ensuring that everyone can enjoy the thrill of wakeboarding.
With top-notch boats and gear, Wake Pirates provides a safe and exciting environment for all riders. Their professional instructors are highly experienced and will guide you through the techniques and skills needed to master wakeboarding.
Whether you're just starting out or looking to improve your tricks, Wake Pirates has a range of packages suitable for every level.
WakePit
WakePit is a popular wakeboarding and wakesurfing company located at marina country club, offering exciting lessons for all skill levels. Founded by the passionate wakeboarding enthusiast Sim Hwee, WakePit provides personalized instruction, high-quality equipment, and essential safety gear like life jackets.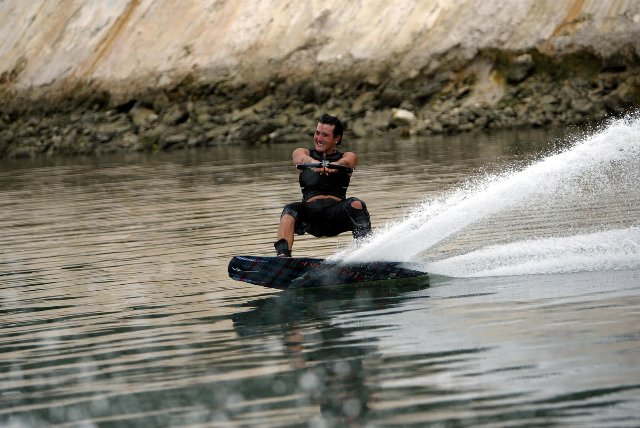 Wake Time in Punggol is a popular wakeboarding center that offers thrilling wakeboarding experiences for both kids and adults. Located in the scenic Punggol area, Wake Time provides professional coaching to ensure a safe and enjoyable time on the water.
Whether you're a beginner or an experienced rider, Wake Time has something for everyone. They offer wakeboarding lessons for all skill levels, allowing you to learn new techniques and improve your riding skills.
The minimum age requirement for kids at Wake Time is 6 years old, allowing even the younger ones to enjoy this exciting water sport.
Whether you're a first-time rider or have some experience under your belt, Wake Time guarantees an exhilarating time on the water.
Enjoy the Thrill of Wakeboarding in Singapore
What do you think of the thrill of wakeboarding in Singapore ? Enjoy this exciting water sport all year round. Whether you're a beginner or experienced rider, there are various wakeboarding centers in Singapore that offer lessons and provide top-notch equipment.
From Absolute Beach Boys to Ryders Singapore, Maxout Hydrosports to Wake Pirates, there's something for everyone to experience the adrenaline-pumping fun of wakeboarding. So grab your board, hit the waves, and have a splashing good time!
FAQs
1. What is Wakeboarding in Singapore?
Wakeboarding in Singapore is a fun outdoor activity for all ages at kid-friendly water sports centers like The Wake Collective and Wakemusters.
2. Where can I learn wakeboarding skills?
You can take wakesurfing lessons and deep water wakeboarding at places like East Coast Park and Marina Country Club.
3. Is there any safety measures to follow while wakeboarding?
Yes, you should wear lifejackets all the time and follow health and safety protocols. Also, it is a must to be a proficient swimmer before start doing extreme wakeboarding.
4. How much does a session of wakeboarding cost?
The price range varies depending on the course content, age requirements, session duration, coach selection (like Mandarin speaking Coach)and boat sizes such as Nautique pro air or MasterCraft X-Star.
5. Can we book our sessions online for Wake boarding?
Yes, booking procedures are simple with both online booking facilities available; You could do bookings even via Instagram promotions from accounts like @RydersSG .
6. Can everyone enjoy this sport together?
Absolutely! It's perfect for family life as its suitable for adults & kids both making it an exciting part of their outdoor activities during weekends.