Have you ever craved the excitement of surfing, but thought it was impossible living in Singapore?
Here's a revelation: with its opening to the sea, Singapore is actually an emerging hotspot for various water sports!
This blog post will disclose the top 2 spots where you can seize waves and valuable tips to improve your surfing experience. Keep reading; a thrilling aquatic adventure in Singapore awaits!
Best Spots for Surfing in Singapore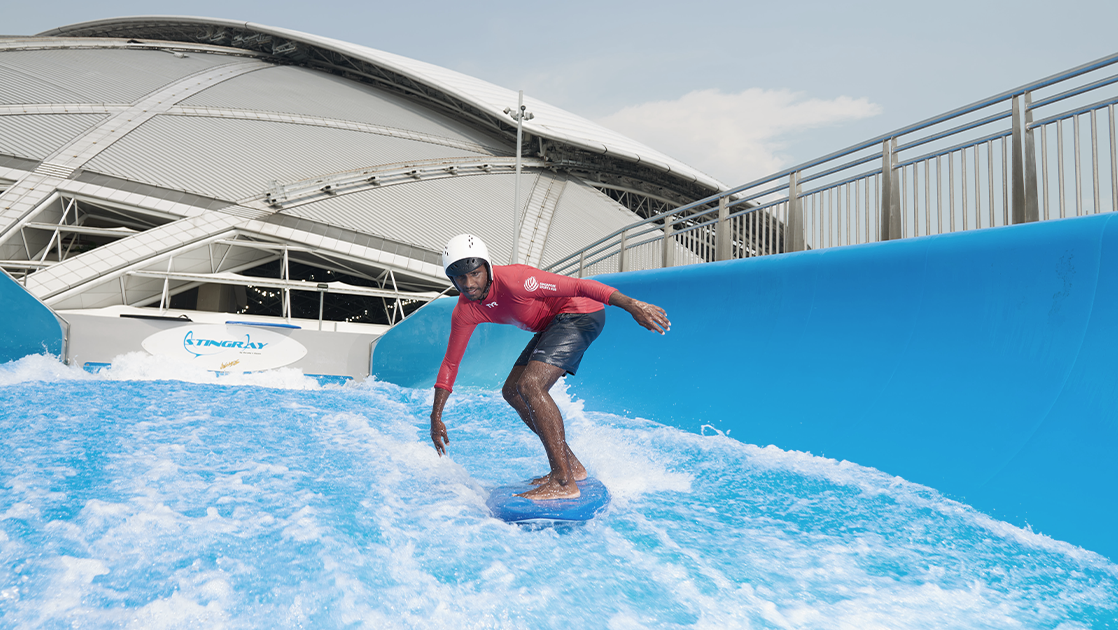 Splash N Surf is a spot worth visiting. It sits on top of the Kallang Wave Mall. This place offers fun for everyone who loves water sports. You can learn to surf, booby board, or even kneeboard here.
On the 12-metre-long StingRay surf simulator, a constant stream of water gushes down for you to surf! It is definitely less intense then the waves as Trifecta but it's still super fun for beginners!
If you are new to surfing, this is where you want to be! They teach new surfers all they need to know about this great water sport. Splash N Surf has classes that help beginners pick up basic surfing skills fast and easy.
Trifecta, situated in the heart of Orchard Road, Singapore, is set to revolutionize the adventure sports scene in Asia. As the first of its kind, Trifecta by The Ride Side merges the thrills of snowboarding, surfing, and skating, offering an unparalleled experience. Dreaming of the powdery snow of Japan, the majestic waves of Bali, or the iconic skating bowls of California? Trifecta brings all these elements to Singapore's urban center.
With its artificial waves, Trifecta provides a unique opportunity to ride waves in an controlled environment.
This innovative attraction features cutting-edge technology, including Asia's first virtual reality (VR) snowboarding and skiing simulator, which mimics the sensation of speeding down a mountain.
The surf arena boasts advanced deep water wave pool technology, capable of creating 1.5-meter-high waves – the deepest in Singapore. Skating enthusiasts will find the world's first hybrid skate bowl, combining the excitement of a skate bowl and a surfskate circuit.
Whether you're looking to improve your skills or just have some fun on the water, Trifecta is definitely worth checking out.
So grab your surfboard and get ready for an exciting surfing adventure at Trifecta!
Wakesurfing/Wakeboarding is a popular water sport in Singapore, attracting both locals and tourists. I actually talked more about this in my article about Wakeboarding, so check it out if your interested!
Usually, wakesurfing facilities typically feature cable systems, making it easier for beginners to learn. Additionally, for more experienced wakeboarders, there are options to wakeboard behind a boat, providing a more challenging experience.
Tips for Surfing in Singapore
Surfing in Singapore can be an exciting experience. Here are some tips to make the most of your surfing adventure:
Choose the right spot: Wakemusters and Suter WakePro are ideal for wakesurfing enthusiasts.Trifecta and Splash N Surf is a great spot for people who just like to Surf
Get proper equipment: Rent or buy surfing equipment from reputable surf shops in Singapore. Make sure you have a suitable surfboard and safety gear to enjoy your time in the water.
Take lessons: If you're new to surfing, consider taking lessons from professional instructors at surf schools like SUP Ventures or Ryders Singapore. They can teach you the basics and help improve your skills.
Stay safe: Always prioritize safety when surfing in Singapore's waters. Follow instructions given by instructors, be aware of any height restrictions or rules at specific locations, and listen to any lightning warnings given by facilities like StingRay at Singapore Sports Hub.
Experience the thrill of surfing in Singapore at amazing spots like SUP Ventures, Splash N Surf, and Wakemusters. Whether you're a beginner or an experienced surfer, there are plenty of options to choose from.
Remember to follow safety guidelines and book your sessions in advance for an unforgettable surfing experience in Singapore.
FAQs
1. What is surfing in Singapore like?
Surfing in Singapore offers mainly artificial wave surfing. You can surf at places like the splash n surf or Trifecta.
2. Where can I take beginner's class for surfing in Singapore?
There are many Singapore surf schools that offer surfing lessons to beginners and provide necessary equipment such as surfboards.
3. Can I try indoor surfing while in Singapore?
Yes! Indoor surfing is a popular water sport here mainly at Trifecta
4. What else can I do beyond coastal Surfing In Singapore?
Apart from coastal or beach surfing, you can also try other sports like rollerblading, wind-surfing or skimboarding at various sports entertainment lifestyle venues around town
5. Are there any stores where I could buy my own gear for Surfing In Singapore?
Numerous surf shops like Trifecta at Somerset are located throughout the city-state, selling everything from boards to special swimwear material items such as lycra shorts.